Billings, MT Dog Grooming
Doggy Doos Pet Grooming
Doggy Doos Pet Grooming offers dog grooming in Billings, MT. We offer pet grooming service to big and small dogs and have been in business since 1996. We provide fast and friendly service with quality work at affordable prices.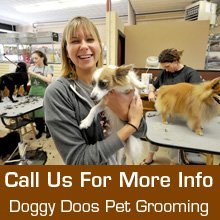 Learn More About Doggy Doos Pet Grooming:
Dog grooming
Animal grooming
Dog salon
We are open 6 days a week from Monday to Saturday. We also provide nail clipping for free.
Contact Doggy Doos Pet Grooming today at 406-254-7016 for more details.
Hours of Business:
Monday - Saturday:
7:30am onwards